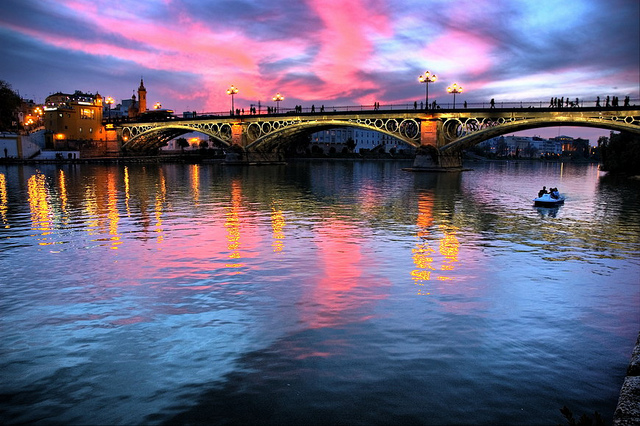 A venerable, slightly off-the-beaten-track district on a portion of the west bank of Seville's Guadalquivir River that's nearly an island, Triana has deep local roots and a profound sense of self – in fact, some local trianeros claim that even today, they almost feel like outsiders when they cross the river to the other side of the city. They feel great pride in belonging to this historic area, supposedly founded as Trajana by the Roman emperor Trajan, born in nearby Italica when this land was Hispania, and later birthplace of local notables such as Rodrigo de Triana (the Columbus crewman famous for being the first to sight America) and more recently flamenco stars like Lole y Manuel and Antonio Canales.
The best-known way to get here is the Isabel II Bridge (better known as the Puente de Triana, Triana Bridge). This handsome iron-and-stone relic of the mid-19th century leads into Altozano Square, where we find a statue of a woman with a guitar that's a momument to one of Seville's specialities, flamenco, along with another of another local hero, early 20th-century bullfighter Juan Belmonte (considered by some to have been the world's greatest). In the distance, Seville's reknowned Golden Tower and Plaza de España, looking as if they indeed were part of another city.
Flowerpots festoon many of the façades here, like those on Calle Castilla, off which branches Inquisition Alley (because once upon a time, here everyone expected the Spanish Inquisition), which leads to Our Lady of the O Boulevard, at the edge of the Guadalquivir. And keep an eye out – behind those façades are often lovely, also flower-bedecked interior patios, of which you might catch glimpses as you pass open portals and doorways. If you don't dare venture in, you can at least get a good eyeful of the patio in El Cachorro on Calle Tejares, a cultural centre which hosts exhibits, concerts, film series, and theatre works.
Triana is a very Catholic neighbourhood, as well, and does share with the rest of Seville a devotion to the Virgin Mary. Here in particular it's La Esperanza de Triana (Our Lady of Hope), famously showcased during Easter Week processions and sheltered the rest of the year in the Mariners Chapel on Calle Pureza. Another famous religious icon that's an Easter staple, the 17th-century "Christ of the Expiration" (aka El Cachorro) is worth a visit in the Patrocinio Chapel on Calle Castilla. And don't forget a visit to the Church of Santa Ana on Plaza Santa Ana; it's one of the city's oldest, built under Alfonso the Wise in the 13th century.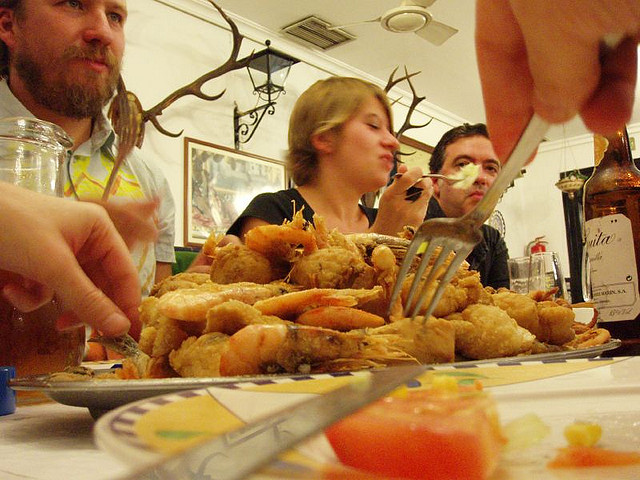 But there's another Triana tradition that's sacred besides flamenco, bullfighting, and the Virgin Mary, and that's el tapeo – tapas. So rev up your appetites and loosen your belts. And don't just limit yourself to one or two spots, oh, no. You make a route of it. At La Primera del Puente (Calle Betis 66) the top specialities are pescaíto frito (fried seafood) and coquinas (tiny clams); at Sol y Sombra (Calle Castilla 147), it's oxtail; at El Bistec (Calle Pelay Correa 34), quail; and at La Blanca Paloma (Calle Pagés del Corro 86), oven-baked cod. And this being Andalusia, for that Moorish touch we'll cap it off with tea instead of expresso, at the Bagdad tearoom (Calle Pureza 22).
If the weather's nice, don't miss sitting a spell at the cafés along Calle Betis (named for the moniker given by the Romans to the Guadalquivir), such as Vogart and Puerto de Cuba (both popular and with a goodlooking crowd). And at night, once again it's back to flamenco. I recommend a visit to Casa Anselma (Calle Pagés del Corro 49), a tablao that positively vibrates with energy. And at the stroke of midnight something special occurs when the crowd joins together in a traditional song to the Virgin Mary associated with Seville's springtime Rocío festival. It's an authentic and moving moment – and very Triana.
Useful Facts:
With some 700,000 inhabitants, Seville is Spain's fourth largest city.
Winters are Mediterranean, milder than farther inland, and summers very hot.
Iberia operate 5 flights to Seville from Madrid daily and once daily from London.
image | Miguel Pozo, Tartanna