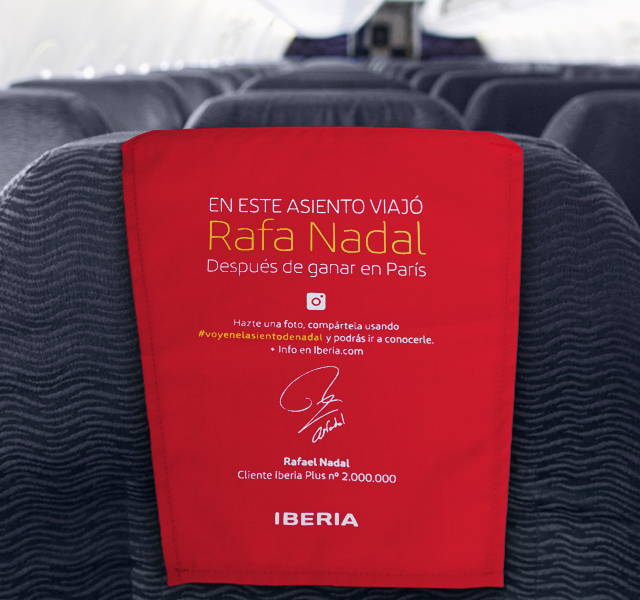 Through November 30, there are two ways to win two very cool prizes: flights for two from anywhere in Spain to Palma de Mallorca for an on-island meal, to attend one of Rafa's tennis training sessions, and to receive a special gift directly from him. Here's how:
Via Twitter (Winner 1)
First off, on all of our flights through the end of this month we have one seat with a headrest marked like the one above.  Snap a Twitpic and upload it to @iberia_en with the hashtag #voyenelasientodeNadal (message optional).
Or if you're not flying in these next two weeks,  you can still enter by tweeting to @iberia_en with that same hashtag, #voyenelasientodeNadal, plus whatever positive message you wish.
Via Iberia Plus (Winner 2)
If you don't have a Twitter account but are an Iberia Plus member (and remember, you can join Iberia Plus easily and for free at any time), you can register for this contest through the personal area of your account.
An unaffiliated notary will choose two winners from all the above entries received. You can try your luck both via Twitter and Iberia Plus, but you can't win twice, sorry!  (Click here for contest rules.)
We look forward to hearing from you – your serve! 🙂