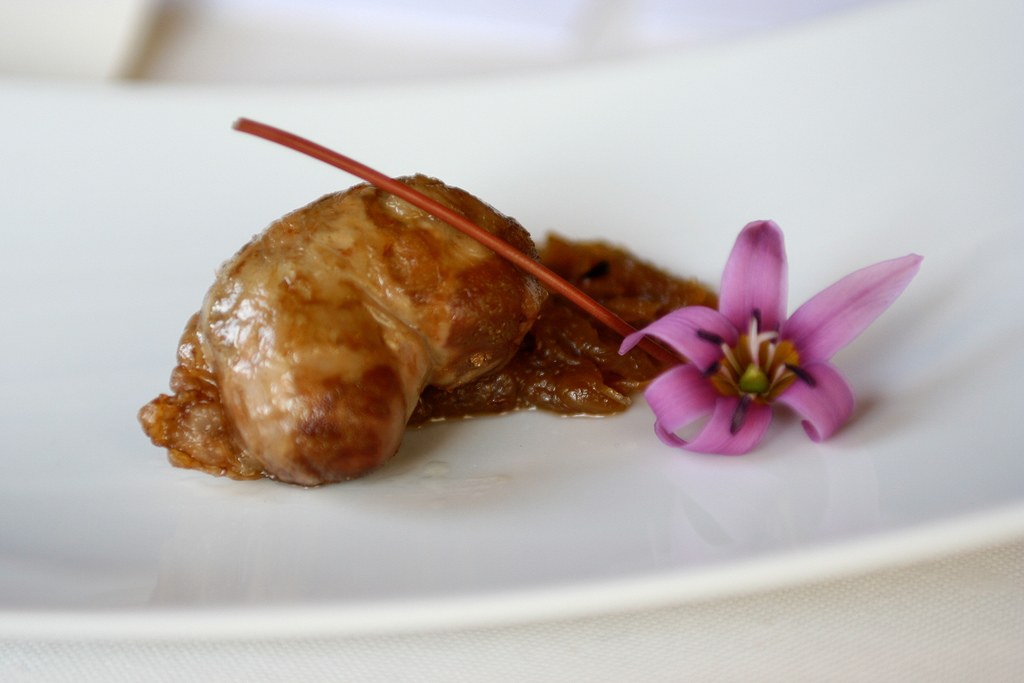 On the border (muga in the Basque language of northern Spain) between the municipalities of Rentería and Astigarraga in the province of Guipúzcoa, Andoni Luis Aduriz has turned his restaurant Mugaritz ("Boundary Oak") into the fourth of the world's best restaurants, according to the 2013 edition of "The World's 50 Best Restaurants" put out by the prestigious Restaurant magazine. Its light, highly creative cuisine (dubbed "Spanish techno-emotional" by 50 Best) has been lauded by critics and foodies around the world, and holds two Michelin stars.

Mugaritz is unique because it's run not so much by a chef as by a truly multidisciplinary artist, Andoni Luis Aduriz, always and forever in search of "the synthesis of  syntheses."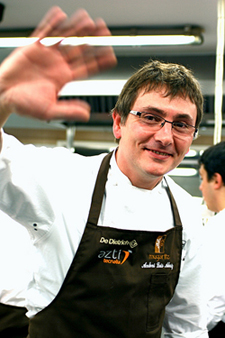 As an example of the attitude and spirit of this Renaissance man, it's worth singling out the recent release of Mugaritz BSO ('Original Soundtrack'), a limited-edition multimedia package that brings together culinary scores, narratives, and a documentary on the synergies of the culinary creative process. It mixes stories by distinguished Basque writer Harkaitz Cano, recipes from Mugaritz, a music CD, and a documentary about the creative process. Mugaritz BSO began five years ago with the meeting of two great spirits, Aduriz and the musician Felipe Ugarte.
Aduriz trained at the San Sebastián Hospitality School and afterwards at Ferran Adrià's El Bullí and Martín Berasategui's eponymous Guipuzcoa restaurant. And at this beautifully kept shrine to gastronomy he opened in 1998 in the heart of Guipúzcoa, amid a bucolic natural setting, he has proven to be a sensitive and intellectual chef. His is a permanent struggle to vindicate the traditional and the contemporary, the rural and the urban, the individual and the collective, since he believes "it's always in the border areas that the most interesting things are to be found." On this principle, his dishes are always delicate and enveloped in a strange sensation of lightness (examples below). It's through them that this Basque chef tries to communicate with diners, reminding them that he "sells not food but illusion." Under key team members maître d' José Ramón Calvo and sommelier Nicolas Boise, the choreography of the service is equally dazzling and the house wine list extremely well curated. Voted winner of Spain's National Gastronomy Prize for best executive chef in 2002, you could say Aduriz is the "blank verse" of today's Basque culinary scene, a free spirit who's transcended all boundaries. That is why Mugaritz attracts a clientele that's as varied as it is cosmopolitan.
Nobody's left indifferent by a visit to Mugaritz, especially after they experience the passion of Aduriz, a man who at the age of just 42 already boasts three suns from Repsol, Spain's answer to the Michelin guides; a man in the business of selling not just illusion, but curiosity and emotion.
EXAMPLES OF MUGARITZ' CULINARY ARTISTRY

Ox-crab threads bound up with vegetable mucilage, macadamia nuts and pink pepper – A dish that synthesises the complementary characters of ox crab and toasted macadamia nuts. Warm briny flavours with creamy and fleshy textures.
Lamb bites in puff pastry with caramel gravy – The crispy skin of the traditional oven roast is combined with meat done to a pink turn. Binding together these two worlds is a toffee made from the gravy.
Ice Desert Rose – How might a rose taste if it grew in the desert? And what about the honey made by the bees that pollinated them? It would be an ode to taste and sensuality, just like this dessert.
Images | Gandhu and Sarah