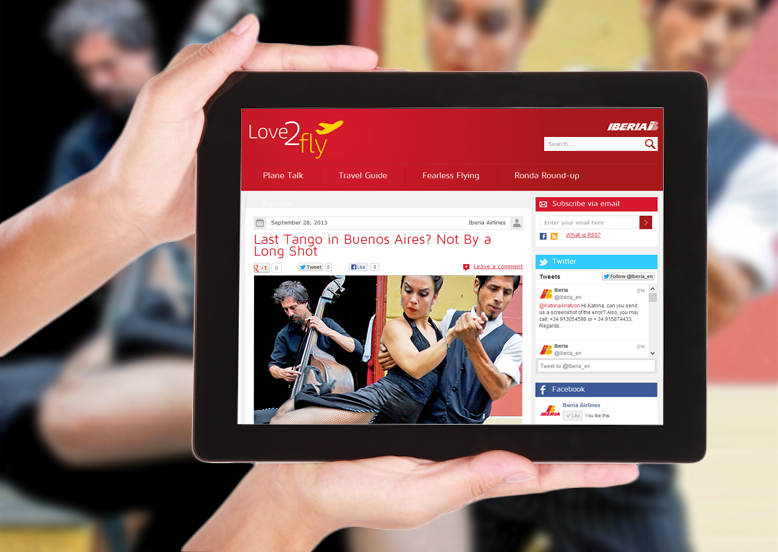 Today is a special day at Iberia Airlines: today, with great pride, we launch love2fly, our English-language blog. Sure, there are many travel blogs out there – too many, some might say – and you might be tempted to write us off for lack of time, or the firm conviction that you don't need one more reason to stay online.
Today we ask you to give us a moment of your time. Stay a while, check us out. Not as yet another corporate blog, but as a friend – your friend – who loves to travel as much as you do. It's in our DNA, you see, and we want to share the joy and wonder of airplane travel, of exploring far-flung lands, with you, and to help you do it better and get the most out of your travel experience.
To this end, we offer you fresh, interesting and useful content in five categories:
Travel Guide, your personal source of inspiration and tips on Iberia destinations
Plane Talk, all about those amazing flying machines that take us on adventures near and far
Ronda Round-up, an abridged selection of the very best from our in-flight Ronda magazine
Iberians, a fun mix of your experiences and our news
Fearless Flying, where we help those with apprehensions overcome their fear of flying
If you like what you see, we invite you to participate in our blog. Notice we didn't say read: we mean participate, in the full sense of the word. We want love2fly to be a two-way conversation with you, the place where you take a break from your daily routine to dream for just a little while about your next trip. And, as you discover what we're all about, we hope you'll tell your friends about us, sharing our posts on your Facebook and other social media channels. Travel, after all, is the ultimate social experience, and the more passionate travelers who participate in our blog, the better our little corner of the Internet will be.
Without further ado, then, we welcome you aboard on our exciting new journey, as we hope you'll welcome us into yours… and tell your travel-loving friends all about it. Why? Because we all… love2fly.